biarritz paradise surf shop
Our Surf Shop offers 150 boards and 60 wetsuits, ready to rent and hit the waves with. We can do delivery for weekly rentals too. We also offer insurance too.
The Surf Shop sells clothes, watches, accessories, surfboards, wetsuits and everything you need to look good or get the most from your next session. Open daily from 10 am to 7 pm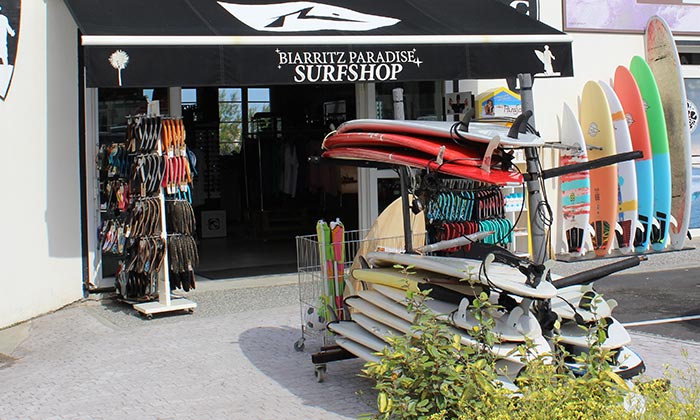 These surfboards are adapted to your level, so you'll be guaranteed the most fun from the first session! We offer: Foam board (6 'to 8'), BIC plastic (7.6 'to 7.9') and Epoxy resin (7.6 'to 7.9')
These surfboards help your progression; you will learn the technique and finesse skills faster! We offer: Epoxy resin board (6 'to 9')
Selection of technical surfboards, you are sure to have as much fun as you would with your own board! We offer: Aloha, Bomba, Bradley, Cabianca, Clayton, Flanagan, MB, Maverick, Rusty, Etc. (5.4 to 6.4 ')
Get high, and enjoy all the waves with a stand up, not here to surf, paddle up and down the coast and soak in the views of the Cote de Basque!
The perfect equipment to ride the waves whatever your level!
The water is a bit fresh here, but you won't feel a thing with our range of suits!